Air Pollution Solutions in the Office
Clean Air Day 2018
The UK is currently in breach of air pollution standards set by the European Commission after the Government did not bring nitrogen dioxide (NO2) within the recommended safe limits.
Whilst this breach relates to outdoor pollutants, there is an obvious knock-on effect to the quality of the air indoors and specifically inside an office.
Pollutants in the air we breathe can be potentially very harmful to health, especially respiratory issues including asthma and can cause an increased risk of cancer.
The health and environmental impacts are a huge primary concern of air pollution. But also for businesses, such as problems of employee absenteeism and reduced productivity.
For Clean Air Day 2018, we want to explore the air pollution solutions. Including, how we can help reduce air pollution in the office and understand the facts about air pollution.
What causes indoor air pollution in the office?
Workplace air pollution will vary depending on your office building, its location and the work you carry out; essentially in a 'regular' office environment you'll experience similar air quality issues to that of your home. According to Clean Air Day research, we spend over 90% of our time indoors, so the potential impact on our health is huge.
Sources include: Volatile Organic Compounds (VOCs). These are found in building products, chipboard furniture and carpets, office equipment such as printers create emissions, plus fumes produced from heating and cooling systems.
Other causes include biological pollutants such as the damp and mould, dust from dirty office environments and bacterial build-ups from lack of cleaning and sanitising in the office. Conversely, over-using cleaning products (non environmentally friendly products) will also emit chemicals into the air.
How do you know if you have an air pollution problem?
Many air quality issues will be apparent through the presence of unpleasant odours, mould and dust in the air or a feeling that the office is uncomfortably hot and stuffy.
There are tests that your facilities management team can carry out to measure carbon dioxide (CO2) levels, the air temperature, airflow and humidity.
Regular maintenance and inspections of the ventilation systems, as well as, the heating and cooling systems in the office should give an early indication of potential problems.
If staff members are complaining of headaches and tiredness that they don't experience outside of the office then this could be an indicator that there's an air pollution problem.
Office Managers need to be aware that office environments are regulated by COSHH standards.
This includes legal standards for chemicals and dusts in workplace air. Although these standards predominantly address industrial environments rather than office space.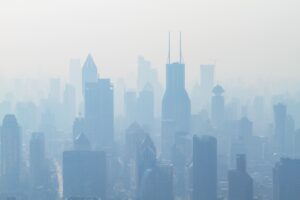 What are the air pollution solutions?
1. Good ventilation and maintenance
In your London office block, you of course can't throw the windows open. (With the peak air pollution problems you probably wouldn't want to).
However, the Office Manager can ensure that the Facilities Management team regularly clean and maintain the ventilation systems for the office.
Filters on the heating and cooling systems must be regularly cleaned or replaced also.
Installing air purification systems could help your office environment if it is particularly bad.
Or if you are experiencing a high percentage of ill health amongst the workers.
2. Regular assessment
In accordance with the Control of Substances Hazardous to Health (COSHH) Regulations, regular assessments must be carried out to ensure substances in the air are not breaching safe levels.
The hazardous substances included within the COSHH guidelines include, chemicals, fumes and dust.
In a recent interview with Stuart Hardman, the Swift Office Cleaning Services Health & Safety Consultant, we learned of changes to CLP Regulations for the classification, labelling and packaging of chemicals and substances.
Risk assessments have been carried out for each and every chemical product that Swift Office Cleaning Services use.
We've looked at the associated risks with them for example, absorption into the skin or inhalation. Then we recommended how to protect the cleaning operatives from these.
This includes, with personal protective equipment (PPE) and clothing, for example, or switching to less harmful chemicals.
3. Low VOC products and zero VOC office furniture
In another informative Swift Office Cleaning Services blog, we detail how to choose environmentally friendly office furniture including office equipment and products with low or no VOCs.
VOCs are often located in the materials of the furniture itself, or the within the chemicals used during production.
The smell of a new piece of office furniture's fabric is often due to VOCs for example.
Manufacturers who don't use VOC's in their furniture production are not only more environmentally friendly. But also the products will be better for the air quality in the office.
Examples include DASBF and Elite Furniture.
4. Regular office cleaning
Regular and thorough office cleaning and sanitising maintains a clean and hygienic environment.
Bacteria, dust, pollen and mould spread rapidly through an office if left unsanitised and untreated.
We provide tailor-made office cleaning solutions for businesses. Particularly for working around your organisation to minimise disruption to your company. Whilst helping you maximise a healthy and clean working environment.
Our commercial cleaning services include daily office cleaning and specialist office equipment cleaning.
Swift Office Cleaning Services also offers flexible and affordable green cleaning solutions to all our clients across London, Essex and Hertfordshire, following rigorous environmental standards according to our ISO 14001:2015 certification.
5. Environmentally friendly cleaning products
We offer an environmentally friendly cleaning option using EvansVanodine products which carry a W.E.I.R. Green Tick for their environmental impact rating.
These products are excellent for producing quality cleaning results whilst minimising their impact on the environment.
The less harmful a cleaning product is to the environment, the less harmful it is to the people using it.
The W.E.I.R. (The Wright Environmental Impact Rating) Tick uses seven criteria to determine a products impact on the environment. This includes the risk of release to the environment and impact of usage.
6. Introduce indoor plants
All plants will take in carbon dioxide and release oxygen. There are some plants that also have the ability to remove dangerous toxins and air pollutants.
These include, benzene, formaldehyde, ammonia and even mould spores.
And according to research carried out by NASA, they found the most beneficial plants to keep in outer space to do exactly this.
This Clean Air Day, explore what your organisation could be doing to help improve the air quality in your office.
Contact Us Today
Speak to us at Swift Office Cleaning Services for a quality, efficient and professional office cleaning service.
We have over 35 years of cleaning offices in London, Essex and Hertfordshire.
Our experienced cleaning operatives and managers know how to work effectively as part of the facilities management team. 
We are ISO 9001:2015 and ISO 14001:2015 certified.
Call us on London: 0203 405 8442 
or Essex: 01279 413 641 for a no obligation and FREE quotation.