We normally hear the same reasons why companies are unhappy with their cleaning services providers, time and time again.
Do any of the following issues sound familiar?
If so, perhaps it's time to consider hiring the professional cleaning company that your business deserves…
1. The management isn't effective
A professional cleaning company cannot rely on the abilities of their cleaning operatives alone.
A strong and effective management team needs to be in place to not only support the cleaners, but to personally manage the needs of clients also.
At Swift Office Cleaning Services, client Account Managers are given a maximum of 50 contracts to manage.
Our Account Managers are allocated specific geographical postcodes to cover, enabling them to reach clients quickly and be more effective with time.
We have a 'buddy system' where Account Managers buddy-up with one another and learn about each other's clients, cleaners and sites.
There is always a knowledgeable Account Manager on hand.
We also have separate morning and evening Managers, giving Managers a better work-life balance.
They know they won't be called at anytime in a 24 hour period whether they're working or not.
Looking after all our staff is vital for maintaining a motivated and focussed team.
Swift Office Cleaning Services stands out from other companies as we have a Customer Services Manager.
They oversee all communications going in and out of the company, ensuring the teams are always responsive to clients and cleaners.
2. Cleaning standards start out well then deteriorate
We've heard it so many times before, that a certain standard is usually promised.
However, after a couple of months, the cleaning contractor has eyes on new business and doesn't focus on maintaining the cleaning standards required.
Our Account Managers visit clients every month with a satisfaction sheet to gain client feedback, to ensure clients are happy with the service they are receiving.
Swift Office Cleaning Services is also different as we employ Quality Control Supervisors.
They work with Account Managers carrying out spot checks on each site to inspect the premises and check-in with the cleaners.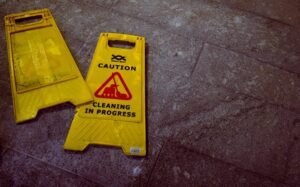 3. Cleaners don't receive enough training
For a cleaner to be able to carry out their job to a high standard, they must have more than just a basic understanding of cleaning a London office.
Our cleaners are all trained to the Swift Office Cleaning Services standard when they start work with us.
They then receive refresher training every 3 months thereafter.
The training includes everything from time management at work, the specifications for each client, health and safety, product training and it's all carried out on site.
We find that our cleaners stay motivated in their work if they feel that they are supported by the team and valued for their hard work.
4. Cleaning companies tell you one thing then don't deliver
"We do what we say we'll do!"
It's always been our unofficial company motto but it's not just something we aim for, we deliver on our promises.
Our processes and management is backed up by ISO 9001:2015 certification.
Having our Customer Services Manager also helps us to deliver for clients.
Hazel Jeffery, is always on hand to communicate with clients, Account Managers and cleaners.
Doing everything we say we will is one of the reasons we have such long-standing client contracts. We're there to build relationships with our clients.
5. Cleaners do not feel supported
How can a cleaner do their job if they run out of products and the management team hasn't ordered any more?
That's just one of the reasons we hear from companies as to why they get disillusioned with their contract cleaning company.
We ensure our cleaners have everything on hand that they need to carry out their jobs effectively and to the highest standard.
Our cleaners are allocated sites close to where they live, which can minimise their expenditure and time getting to work.
It also allows them the option of using public transport which is better for the environment.
Our Account Managers are as much they're to support the cleaners as they are to support their clients.
Our cleaning operatives can contact their Account Manager at anytime.
They also have the option of speaking with Hazel, our Customer Services Manager. Someone is always on hand to answer their queries.
6. One size service fits all
Cleaning services cannot be prescribed over the phone based on the rough square footage of your office space.
To gain a true grasp of a client's cleaning service requirements an on-site visit is always required.
We don't try to cut corners when estimating for clients.
Before we provide a final quote for a client, one of our trained Estimators will visit the site, speak with the client to fully understand their requirements.
They will then carry out cleaning timings, so that the client's cleaning service can be tailored to their individual requirements.
Swift Office Cleaning Services charges by the hour, not a package rate, meaning that clients only pay for the service they receive.
Do you think your business deserves a better cleaning company?
Speak to us at Swift Office Cleaning Services for professional office cleaning services in London, Essex and Hertfordshire.
Call a member of the team on London: 0203 405 8442
or Essex: 01279 413641