Make Your Office Reduce Plastic Waste!
The plastic-free movement or 'The Blue Planet effect' as it's now widely known, is gaining so much momentum that the government and businesses of all sizes are finally taking notice, and importantly, taking action.
Prime Minister Theresa May has set a target for 2025 in which to eliminate the "scourge" of plastic waste.
Major brands are joining the war on plastic. One throw-away plastic straw at a time, with the help of the UK Plastics Pact.
How does this affect your company?
It is the responsibility of every single person that walks the planet to do what they can to reduce plastic waste.
It is not only clogging up the landfill sites close to home, it's destroying our oceans and ecosystems worldwide.
As an organisation, it is your duty to lead the way for your employees to adapt their mindset.
Here are 6 steps to reduce plastic waste in your office:
1. Culture shake up
Hopefully yours is a business that already follows the 4 R's  – Refuse, Reduce, Reuse, Recycle in the office. The Plastic Pollution Coalition recommends adding a fifth 'R' to also "Raise Awareness".
When you realise how much throwaway plastic is part of our everyday life in the office and at home, you begin to see how our lifestyle and work life decisions can detrimentally affect our environment.
Challenge your company's attitude to waste and fight against the "throw-away" culture by adopting a plastic-free workplace.
If you haven't already, form a 'green' team or sustainability team to lead the way and to communicate the positive work throughout your whole organisation.
Provide information on what you're doing as a business and why. This is vital to gain the buy-in from every member of staff from the management down.
2. Conduct a Waste Audit
Understanding what gets thrown away in your office and the volumes of this waste will help you establish suitable resolutions for reducing the plastic waste, especially single use plastic.
Conducting a waste audit doesn't have to be as revolting as it sounds – put on gloves and a take a waste bin to a suitable location to tip the contents on to the floor.
Document with photos and notes what plastic waste is contained (and all waste if possible to encourage recycling of other products).
These photos can be used in the communications to the whole office to highlight the extent of the problem.
It is likely that you'll find a lot of plastic drinks bottles, they are one of the worst offending disposable items.
The ideal solution to this is to place a ban on single-use water bottles.
To help facilitate a ban, provide easier access to drinking water in the office with refrigerated filtered water or water coolers.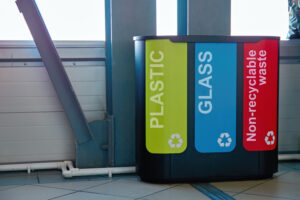 3. Encourage staff to bring in their lunch
Grabbing a quick lunch invariably means picking up a sandwich meal deal or another takeaway.
Convenience foods are nearly always wrapped in some form of plastic packaging, and may even come complete with plastic cutlery.
This single-use packaging is nearly always landfill bound (although there are food companies developing innovative new packaging).
By providing ample space to store and refrigerate home cooked meals, as well as, the facilities to reheat them will play a major factor in reducing your waste in the office.
When members of staff do bring in their food, encourage the use of alternatives to cling film by using reusable storage pots to transport food from home.
To avoid the post-lunch slump, many workers will top-up on a much-needed caffeine hit but what about the coffee machine you use?
If you have a coffee pod machine, look into investing into other coffee makers that do not require the use of plastic in their processes.
4. Involve the company procurement team
The people responsible for procuring office supplies will be some of your most valuable allies in the war against plastic in the office.
Having already mentioned the use of coffee pods in the office, it brings us directly to the tea break.
96% of tea bags contain plastic unless you source a plastic-free brand. Or opt for loose leaf tea.
Teapigs hold a 'Plastic Free Trust Mark', not only are their teabags completely plastic free, so is their packaging.
Stationery is another area where changing your company's purchasing habits can help fight plastic pollution.
Plastic pocket files, laminated products, even the simple office pen is a plastic commodity. They are all examples of single-use plastics in the office which are discarded when we're finished with them.
They can all be replaced with a more environmentally friendly options. For example switching to refillable pens or pencils.
Plastics infiltrate all elements of office life including the chairs we sit on.
It is possible to source environmentally friendly and sustainable furniture  to help combat the issue.
Emeco is an office furniture company which has collaborated with Coca-Cola. They produce a range of modern furniture lines which reuse Polyethylene Terephthalate from plastic bottles.
"The goal isn't about turning disposable plastic into more disposable plastic. Stop thinking 'landfill' and start thinking 'legacy'."
Consider setting up a central supplies library to reuse and recycle office stationery and other items.
Not only will that reduce the amount of plastic ending up in our oceans, it will reduce spend for your company too.
5. Talk to your suppliers
With the ethos of 'raising awareness' in mind, talk to your suppliers about going plastic-free.
Can they recommend alternative products with reduced plastic or can they amend their delivery processes to include less plastic packaging?
If they can't come up with environmentally friendly solutions for you, switch suppliers to a company that can.
We will all be able to make a difference by taking a hard stance on plastic pollution.
If you can't completely remove plastic from the office, ensure whatever waste you are producing, you are recycling correctly.
Do you have a recycling policy in place? This is the first step to efficient office recycling.
Ensure that your cleaning company and waste management services are supporting your recycling efforts too.
Swift Office Cleaning Services is ISO 14001:2015 certified for their environmental practices and even offer a green cleaning service.
We purchase cleaning products in large volumes to help reduce the plastic packaging needed in small cleaning dispensers.
6. Incentive for staff
As a company initiative, you can't expect full cooperation from your staff unless you help them reach your organisation's plastic-free goals.
Provide each member of staff with a company branded reusable water bottle and reusable cup.
Immediately you can cut out the need for single-use plastic water bottles in the office.
Encourage staff to take their reusable cup with them on their commute to and from the office. This will deter against picking up a takeaway drink with plastic lids and spoons.
Your teams will be pleased for the cost saving of making drinks before they leave the office and think of the brand exposure too with your company name on every cup!
Depending on your business, providing a 'bag for life' is also a good idea to avoid the use of plastic bags.
Consider holding a "ban the bottle" competition – and get your teams and departments competing to become the first to reach plastic-free status.
The first team to fully 'ban the bottle' wins a prize. (Perhaps a complementary 'nude food' lunch?)
Force action and drive plastic pollution awareness in your office by holding a #PlasticFreeFriday event.
Choose Swift Office Cleaning Services For Your Green Cleaning Services in London, Essex and Hertfordshire.
Contract the cleaning professionals with environmentally friendly credentials and the robust management teams and trained cleaners to support your office initiatives.
We offer free cleaning quotations so call us to discuss your green cleaning requirements.
Call us on London 0203 405 8442
or Essex 01279 413 641 today.