The Difference Between Cleaning and Sanitising, and Disinfecting.
These words are often used interchangeable.
However, their definitions are surprisingly different, offering alternative solutions to workplace cleaning.
Cleaner vs sanitiser vs disinfectant:
Cleaning: The removal of obvious debris and organic substances from surfaces.
Sanitising: Reducing the amount of bacteria and removing any contaminants which can cause sickness.
Sanitising must work in conjunction with another cleaning method to completely remove bacteria.
Disinfecting: The complete removal of pathogens and disease-causing microorganisms.
Typically used in hospital environments but worth considering for a deeper office clean at the end of a tenancy agreement.
Why should you consider cleaning and sanitising your London office?
In an expansive office space, with a large number of employees and several communal areas, professional cleaning services are mandatory in maintaining a hygienic work space.
Even though you may think your work space looks tidy, bacteria can quickly build up on seemingly clean surfaces.
Regular sanitising is also imperative for reaching standardised health and safety guidelines. Also to significantly reduce the possible transfer of germs and bacteria.
This is an important consideration during the typical cold and flu seasons. As this is when viruses and microorganisms quickly spread in closed office spaces.
A clean office space looks more appealing and portrays a positive image of your company to potential clients visiting the office.
Their first impression of your business plays a crucial role in future business together. So why let an untidy office stand between you and a potential business deal?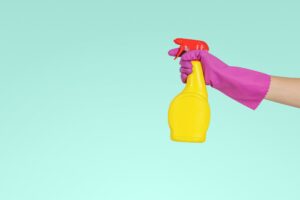 Which areas of the office should be cleaned VS what should be sanitised?
In general, areas with a large amount of footfall should to be cleaned as regularly as possible.
Surfaces should be cleaned with hot soapy water and dried, while specific areas such as door handles and office equipment can be wiped down.
Surfaces which need to be cleaned regularly:
Floors
Windows
Desks
Door handles
In compliance with the food code, kitchen surfaces and lunch tables should always be sanitised.
Sanitising effectively reduces the number of bacteria which can generally be more difficult to remove and prevents the spread of illnesses.
Surfaces which need to be sanitised:
Surfaces which come into contact with food
Bathrooms and communal washrooms
As an experienced and professional cleaning agency, we realise the importance of tailoring our services to suit your company needs.
Our services are also charged at an hourly rate ensuring your business doesn't need to pay for more than they require.
When should you consider disinfecting your office space?
Sanitiser vs disinfectant in cleaning include very different methods.
Disinfecting procedures are generally thought to be one of the most thorough as they completely destroy pathogens and bacteria.
They also remove bacteria which can lead to foul smelling odours.
Our cleaning agency offers a range of flexible cleaning services. From washroom sanitation and carpet cleaning, to appliance maintenance.
These services are supplementary to general office cleaning for occasions your office might require more than a daily office clean.
Why you should consider professional cleaning services?
Swift Office Cleaning Services provides a professional cleaning service by trained professionals.
We believe in investing in our employees to ensure our high standards are maintained.
As part of our service, each of our clients are assigned an Account Manager to ensure any queries are resolved.
Call Swift Office Cleaning Services to speak to the experts and receive a  free quotation.
Contact London: 0207 1741 723 or Essex: 01279 413 641.